Αγαπητοί αναγνώστες,
Υπήρξε μεγάλο διάστημα αδράνειας από μέρους μας, λόγω προβλήματος του server μας, το οποίο αν και διήρκησε σχεδόν ενάμησι μήνα, λύθηκε και βρισκόμαστε και πάλι δίπλα σας.
Η πρώτη ανάρτηση για φέτος θα αφορά τις καλύτερες κυκλοφορίες του 2014, όπως επιλέχθηκαν από τους συντάκτες του Greekrebels.gr. Αυτές είναι: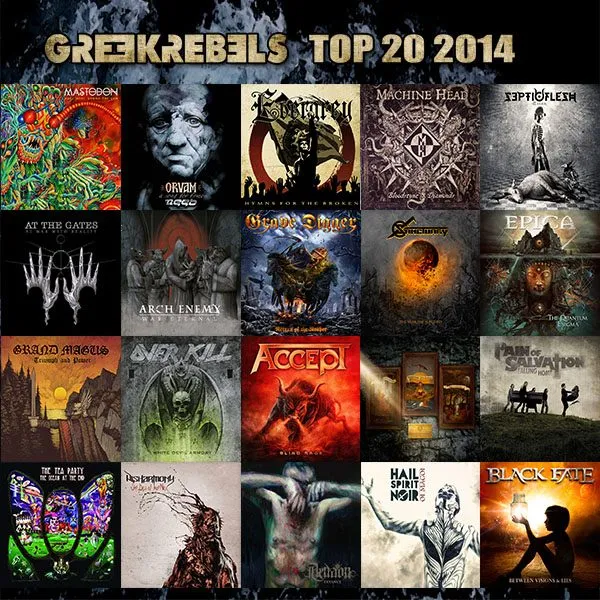 No#1: Mastodon – Once More Round The Sun (Βαθμοί: 7)
No#2: Need – Orvam (Βαθμοί: 4)
No#3: Evergrey – Hymns For The Broken (Βαθμοί: 4)
No#4: Machine Head – Bloodstone And Diamonds (Βαθμοί: 4)
No#5: SepticFlesh – Titan (Βαθμοί: 3)
No#6: At Τhe Gates – At War With Reality (Βαθμοί: 3)
No#7: Arch Enemy – War Eternal (Βαθμοί: 3)
No#8: Grave Digger – Return Of The Reaper (Βαθμοί: 3)
No#9: Sanctuary -The Year The Sun Died (Βαθμοί: 3)
No#10: Epica – The Quantum Enigma (Βαθμοί: 3)
No#11: Grand Magus – Triumph And Power (Βαθμοί: 3)
No#12: Overkill – White Devil Armory (Βαθμοί: 3)
No#13: Accept – Blind Rage (Βαθμοί: 3)
No#14: Opeth – Pale Communion (Βαθμοί: 2)
No#15: Pain Of Salvation – Falling Home (Βαθμοί: 2)
No#16: The Tea Party – The Ocean At The End (Βαθμοί: 2)
No#17: Disharmony – Shades Of Insanity (Βαθμοί: 2)
No#18: Aenaon – Extance (Βαθμοί: 2)
No#19: Hail Spirit Noirt – Oi Magoi (Βαθμοί: 2)
No#20: Black Fate – Between Visions & Lies (Βαθμοί: 2)
Αναλυτικότερα η λίστα του κάθε συντάκτη μπορεί να βρεθεί παρακάτω.
ΣΗΜΕΙΩΣΗ: Η σειρά είναι τυχαία.
Νίκος Σιγλίδης
Evergrey – Hymns For The Broken | Yossi Sassi – Desert Butterflies | Pain Of Salvation – Falling Home | Need – Orvam | False Coda – Closer To The Edge | Envenomed – Evil Unseen | Hail Spirit Noirt – Oi Magoi | The Tea Party – The Ocean At The End | At Τhe Gates – At War With Reality | SepticFlesh – Titan | Disharmony – Shades Of Insanity | The Haunted – Exit Wounds | Grave Digger – Return Of The Reaper | Aenaon – Extance | Sanctuary – The Year The Sun Died | Black Fate – Between Visions & Lies | Red Eleven – Round II | Outloud – Let's Get Serious | Astral Doors – Notes From The Shadows | 21 Octane – Into The Open
Τένια Λάρδα
Slipknot – 5: The Gray Chapter | Need – Orvam | Blues Pills – Blues Pills | Arch Enemy – War Eternal | Mastodon – Once More Round The Sun | Giant Squid – Minoans | Crowbar – Symmetry In Black | 1000 Mods – Vultures | Planet of Zeus – Vigilante | Opeth – Pale Communion | Purple Hill Witch – Purple Hill Witch | Eyehategod – Eyehategod | John Garcia – John Garcia | We All Die (Laughing) – Thoughtscan | Mother of Millions – Human | Super Massive Black Holes – Calculations of the Ancients | Hannes Grossman – The Radial Covenant | Amniac – Infinite | Allochiria – Omonoia | Machine Head – Bloodstone And Diamonds
Κώστας Καραγεώργος
Evergrey – Hymns For The Broken | Need – Orvam | Elysion – Someplace Better | Solstafir – Otta | Opeth – Pale Communion | Grand Magus – Triumph And Power | Villagers Of Ioannina City – Riza | H.E.A.T.- Tearing Down The Walls | Dynazty – Renatus | Pet The Preacher – The Cave And The Sunlight | Pain Of Salvation – Falling Home | The Tea Party – The Ocean At The End | At The Gates – At War With Reality |
Bloodbath – Grand Morbid Funeral | Septicflesh – Titan | Disharmony – Shades Of Insanity | Capsize – The Angst In My Veins | Mastodon – Once More Round The Sun |
Godflesh – A World Lit By Fire | Crippled Black Phoenix – White Light Generator
Στάθης Αυγέρης
Slipknot – 5: The Gray Chapter | Machine Head – Bloodstone & Diamonds | Ill Nino-Till Death, La Familia | Hellyeah – Blood For Blood | Godsmack – 1000 Hp | Amaranthe – Massive Addictive | Architects – Lost Forever//Lost Together | Powerman 5000 – Builders Of The Future | Epica – The Quantum Enigma | Mushroomhead – The Righteous & The Butterfly | Arch Enemy – War Eternal | Skindred – Kill The Power | Megaherz – Zombieland | Nonpoint – The Return | Lacuna Coil – Black Crown Halo | Ektomorf – Retribution | Within Temptation – Hydra | Mastodon – Once More Round The Sun | Kontrust – Expositive | In This Moment -Black Widow
Νίκος Κεφαλίδης
At The Gates – At War With Reality | The Haunted – Exit Wounds | Sorrows Path – Doom Philosophy | Duskmourn – Legend | Descend – Wither | Accept – Blind Rage | Grave Digger – Return Of The Reaper | Insomnium – Shadows Of The Dying Sun | Sanctuary – The Year The Sun Died | Mors Principium Est – Dawn Of The 5th Era | Aenaon – Extance | Agalloch – The Serpent And The Sphere | Darkenhold – Castellum | Hail Spirit Noir – Oi Magoi | Impaled Nazarene – Vigorous And Liberating Death | Novembers Doom – Bled White | Evergrey – Hymns For The Broken | Legion Of The Damned – Ravenous Plague | Infectious Hate – Insanity Begins [EP] | Vallenfyre – Splinters
Πάνος Πρέντζας
Riot V – Unleash The Fire | Evergrey – Hymns For The Broken | Threshold – For The Journey | Grand Magus – Triumph And Power | Battleroar – Blood For Legends | Voyager – V | While Heaven Wept – Suspended At Aphelion | Primordial – Where Greater Men Have Fallen | Slash – World On Fire | Mastodon – Once More 'Round The Sun | House Of Lords – Precious Metal | Crystal Tears – Hellmade | Black Fate – Between Visions & Lies | Cruachan – Blood For The Blood God | Anaal Nathrakh- Desideratum | Dead Congregation – Promulgation Of The Fall | Decapitated – Blood Mantra | Overkill – White Devil Armory | Need – Orvam | Veni Domine – Light
Τάσος Δεληγιάννης
Reload – Hotter Than A Bullet | Zaum – Oracles | Hiss Hiss From The Moat – Misanthropy | Rude-Soul Recall | Origin – Omnipresent | Opeth – A Pale Communion | The Kennedy Veil -Trinity Of Falsehood | Theater Of The Absurd -The Myth Of Sisyphus | Hyperborean – Mythos Of The Great Pestilence | Folge Dem Wind – To Summon Twilight | Inter Arma – The Cavern | Mastodon – Once More Round The Sun | Morbus Chron – Sweven | A Hill To Die Upon – Holy Despair | Nuklear Frost – The Subjugation | Septycal Gorge – Scourge Of The Formless Breed | Mass Infection – For I Am Genocide | Dead Congregation – Promulgation Of The Fall | Dinner Music For The Gods – Beautiful And Treacherous | Execration – Morbid Dimensions
Νίκος Σιδέρης
Sanctuary – The Year The Sun Died | Behemoth – The Satanist | Sabaton – Heroes | Exodus – Blood In, Blood Out | Arch Enemy – War Eternal | Machine Head – Bloodstone & Diamonds | Slipknot – 5: The Negative One | Iced Earth – Plagues Of Babylon | Judas Priest – Redeemer Of Souls | Suicidal Angels – Divide And Conquer |
Burzum – The Ways Of Yore | Tankard – R.I.B. | Mastodon – Once More 'Round the Sun | Grave Digger – Return of the Reaper | Epica – The Quantum Enigma | Overkill – White Devil Armory | Septicflesh – Titan | Accept – Blind Rage | Cavalera Conspiracy – Pandemonium | Conquering Dystopia – Conquering Dystopia
Δέσποινα Σταματάκη
Solstafir – Otta | Riot V- Unleash The Fire | Blues Pills – Little Sun | Mastodon – Once More Round The Sun | Judas Priest – Redeemer Of Souls | Grand Magus – Triumph And Power | Eluveitie – Origins | Yob – Clearing The Path To Ascend | Epica – The Quantum Enigma | Accept – Blind Rage | Insomnium – Shadows Of The Dying Sun | Skull Fist – Chasing The Dream | Gamma Ray – Empire Of The Undead | Machine Head – Bloodstone And Diamonds | Slash- Word On Fire | Woven Hand – Refractory Obdurate | Overkill – White Devil Armory | Sanctuary – The Year The Sun Died | Burzum – The Ways Of Yore | Exodus – Blood In, Blood Out