Το πρόγραμμα του Wolves In The Throne Room + guests : Order of the Ebon Hand live στο Gagarin205 Live Music Space (15/12) !
Rhythm Records
Metal Era
Sound Effect Records
Seven Spots
Reload Stores
Media Markt Greece
Βιβλιοπωλεία Ευριπίδης – Evripidis Bookstores
Yoleni's Hellas Flagship store – Kolonaki
Viva kiosks Συντάγματος και Τεχνόπολης, λίγο πριν τη λήξη του απογευματινού ωραρίου του κάθε καταστήματος).
Την ημέρα της συναυλίας (Παρασκευή 15/12), εισιτήρια θα είναι πλέον διαθέσιμα μόνο στο ταμείο του Gagarin 205 LIve Music Space από τις 20:30.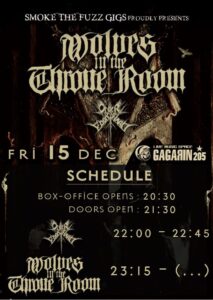 Κείμενο: Δημήτρης Σταύρος